PRESS RELEASE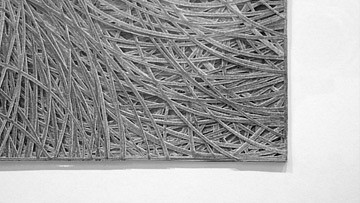 Unique Thrift an exhibition of work by Adam Fowler. Known for his painstakingly precise cut paper constructions, Unique Thriftdisplays a body of new pieces - each a unique "sculptural drawing" of intricacy and graceful depth.

With organic and sweeping movements, Fowler's drawings begin as curving, looping lines penciled across the page; and with marks laid down, the drawings begin their transformation. Fowler uses an X-Acto knife to meticulously remove the negative space from each piece, creating a delicate paper lace of graphite lines. With drawings stacked upon each other, Fowler's art takes form. The layers and layers of beautifully penciled, overlapping latticework are as delicate and entrancing as a spider's web. Ranging from three sheets to sixty-four sheets in thickness, Fowler's artwork takes on new dimension, reflected in the complex and changing interplay between dark graphite markings and shadowy background. Pushing the boundaries of the medium, Fowler's cut paper drawings engage and examine the intersection of drawing and sculpture.

Adam Fowler's drawings have been featured in Horror Vacui at McKenzie Fine Art and The New Collage at Pavel Zoubok Gallery; as well as at Weatherspoon Art Museum in Greensboro, NC; and Vincent Price Art Museum in Los Angeles, CA. This is the artist's second solo exhibition at Thatcher Projects.